Happy Birthday Joomla and Joomlashack: 25% OFF Sale
WOW, time flies! It's hard to believe, but almost five years ago, on Sept 1st 2005, Joomla was officially launched. Just a day later, on Sept 2nd, Joomlashack was founded.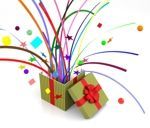 Big changes, indeed--but one thing that will never change at the 'Shack is our commitment to bringing you the very BEST Joomla (and other CMS) products at the very BEST value anywhere.
Anniversary Sale: 25% OFF EVERYTHING Until Sept 2nd
In appreciation of our amazing customers who have helped us grow our business, here is a coupon good for 25% OFF anything in our store. Just enter this coupon code and your discount will be instantly calculated at the checkout page: ANNI25OFF
But please hurry!

This coupon is good until Wednesday, September 1 at 11:59 pm EST. After midnight Sept 2, 2010, it expires!
On behalf of the entire Joomlashack team, I want to personally thank you for making Joomlashack so successful these past 5 years. Here's to another 5!
Lifestream for Joomla: Display ALL of your Social Network feeds in one place!
Joomlashack is proud to announce the release of its first commercial Joomla extension, Lifestream!
Need an easy way to keep your friends, family and business associates updated on all your activities; across multiple social networks; at any time of the day and in one convenient place?
Sound impossible? Well, now you can!
Introducing Lifestream for Joomla, an exciting new social media extension from Joomlashack!
Lifestream for Joomla lets you present the social media feeds of your choice to your audience in a highly-configurable and easy-to-set up Joomla 1.5x component & module. It dynamically updates your website with your favorite social network feeds 24/7.
Lifestream for Joomla lets you...
* display multiple social network feeds separately or together as an integrated stream
* display in 3 different views: tab, grid (side-by-side) or integrated
* set up your streams as a component (front page, for example) or a module (throughout your site, etc)
* add multiple accounts/users for each social network feed to create even more interesting streams
* choose between the included Light/Silver or Charcoal/Grey themes..or create your own themes!
* add custom formatting to each of your streams for infinite style possibilities
* download updates/fixes and new social network integration plugins for FREE during your 6-month access period
* get 6 months of FREE access to our amazing customer support team should you need any help
This entry was posted on 1:31 AM, and is filed under
. Follow any responses to this post through
RSS
. You can
leave a response
, or trackback from your own site.